The strategic planning behind Nancy's website provided an informational safe haven for her audience!
I first met Nancy, the owner of Breathe Body Wellness, when she was starting her business in July of 2022. Managing Vocal Cord Dysfunction is what the Breathe Body Wellness company helps support by offering a unique, whole-person approach.
In the initial questionnaire, Nancy stated…
"A website will allow me to reach clients

suffering silently

from this chronic condition. My priorities are to organize this website in an easily readable way. I want my site to convey a space for clients needing support, education, guidance and hope in managing VCD/BD symptoms through holistic modalities and coaching.
I am different because there is not another website I am aware of offering this type of assistance to clients suffering from VCD/BD."
Those who are suffering from VCD/BD likely don't know there's an underlying issue with a solution, where to look for answers, or that professionals are available to help them. With Nancy's site, we solve all of the above and create a space for those people to begin healing!
Phase One: Objectives & Strategy
Strategy Session
When sitting down with Nancy to discuss her new business, she lit up while talking about all her ideas, and the information about this particular condition poured from her soul. It brought excitement to the project, and it was clear to me that she and her business were one-of-a-kind! I knew the brand and website needed to be exactly that so it would resonate well with her audience.
Brand Strategy
By creating a brand and website that looks and feels calming, informational, and trustworthy, we choose: [-] Calming colors that also represented trust [-] Incorporated elements of nature that would relate to air [-] Implemented imagery of Nancy to instill trust in the audience [-] Implied movement with imagery and graphics throughout
Nancy mentioned she required
"A skilled web developer who could create a website with a holistic touch. The site needed to feature welcoming and soothing colors, easily accessible and readable information, seamless scrolling between pages, visually appealing fonts, and eye-catching images that complemented the header area. Additionally, the logo had to convey a sense of connection and unity."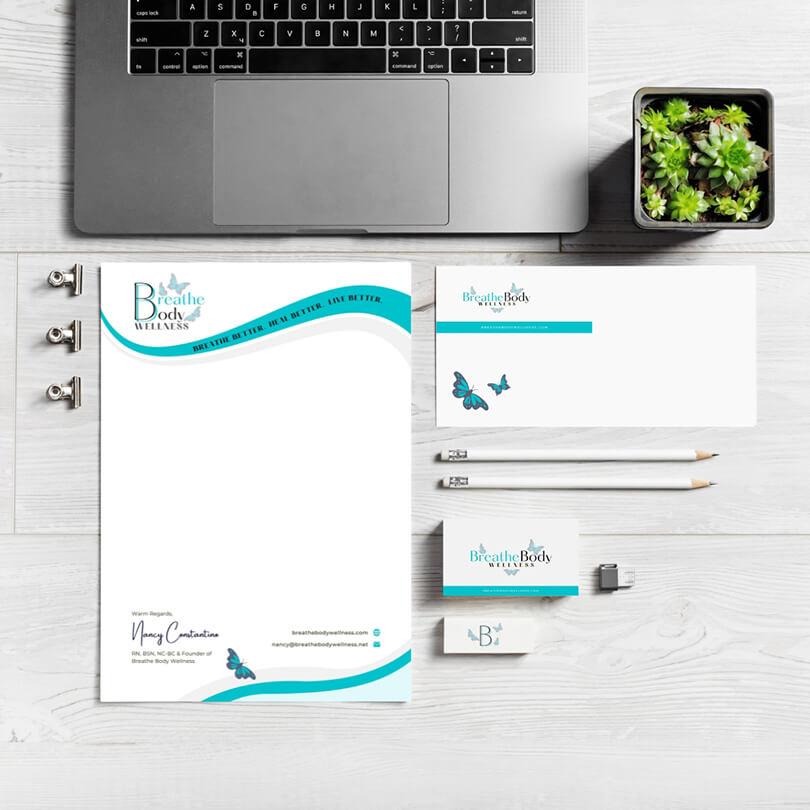 Nancy's website design & strategy had three key objectives:
1 Organize information in a way that was easy to navigate, read through, and not overwhelm
2 Create a holistic and calming vibe that would be inviting to the audience
3 Break up the content with imagery/videos of Nancy to establish trust and credibility
Phase Two: Website Development & Design
Website Platform
Without a doubt, the vision for Nancy's website was customized, so utilizing the Divi builder inside WordPress was a no-brainer. Adding all logos, icons, colors, and fonts is the first step to ensure the website is prepped for the build phase. Doing this step first makes it easier to see the design come together as you add the content and images. It also allows me to complete projects with a fast turnaround instead of adding them later and going back to make tweaks when the pages are built out.
Build Process
All of the sub-pages are built to be cohesive to the Home page and create consistency throughout the site, so it is crucial that it hits the mark. Building out the Home page and having Nancy provide feedback allows me to make any adjustments to the design before building out the rest of the pages. It also builds excitement for the finished product!
Website Add-ons
On Nancy's website, we incorporated contact forms, booking links, content with toggles, testimonial carousels, moving backgrounds, layered images, hover effects, automations, responsive design, and SEO optimization, which is another reason I chose to use Divi with WordPress for this project.
Review & Approvals
Nancy provided ample information, which she thought was important for her audience, but she didn't want to overwhelm them. This was the challenge during the Home page review, but we made more strategic decisions to ensure the page didn't get too busy. This solution made me confident the rest of the build go smoothly.
Phase Three: Finalization & Handoff
During the Final Review
Nancy remarked, "The website design perfectly encapsulated the professionalism, connection, and core message I wanted to share with my audience. It boosted my confidence, as the site effectively conveyed educational aspects in a clear and easily digestible manner, which is crucial for increasing awareness about Vocal Cord Dysfunction."
Finalization
This stage implements the final pieces once the entire website has been approved. I remove unused media, plugins, and themes to provide my clients with a clean, organized, and easy-to-manage website. It's also great to have screenshots, videos, and backups created of the entire site in case Nancy or myself need to reference them in the future. Plus, I always add a basic SEO strategy with page titles and meta descriptions to ensure search engines have a general idea of who would benefit from the website's content.
Since the handoff
Nancy mentioned, "Though I haven't officially launched yet, the vendors I'm collaborating with have seen the website and expressed admiration for its layout, color palette, subtle background visuals while scrolling, and the overall appearance. I wholeheartedly agree with their feedback!"
Final Words From Nancy were,
"I would definitely recommend you to others…Collaborating with you on my website design has been a delightful experience. You are incredibly personable, detail-oriented, creative, and highly professional. It has truly been a pleasure working with you!"